---
Steak Ramen Bowl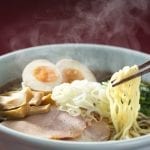 2 x 200g sirloin steak
Salt and pepper
2 tbsp Olive oil
11/2 L beef stock
2 carrots, peeled into strips
300g carrots, peeled into strips
4 eggs, soft boiled then peeled
Heat a griddle pan until smoking.

Season steak generously with salt and pepper then drizzle with olive oil.

Grill steak on both sides until charred but still rare then leave to rest.

Place stock into a pot, then bring to the boil.

Add carrots and noodles then simmer until tender.

Serve noodles in bowls topped with sliced steak and halved boiled eggs.