---
Malva Pudding and Amarula Crème Anglaise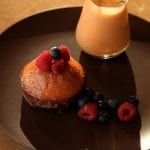 Ingredients
1 cup flour
1 large free range whole egg
1/2 cup castor sugar
1/2 cup milk
3 tbs salted butter
1 tbs apricot jam
1 tsp bicarbonate of soda
1 tsp fine salt
1 tbs white vinegar
41/2 oz salted butter
3/4 cup castor sugar
1/4 cup water
3/4 cup cream
1 tsp vanilla essence
1 cup milk
1 cup Amarula cream liqueur
4 free range egg yolks
5 tbs castor sugar
1 vanilla pod
Preparation
MALVA PUDDING
Serves: 6

Prep Time: 20 min

Cook Time: 45 min

Preheat the oven to 320 degrees Fahrenheit.

In a large bowl, whisk together the sugar and butter. Add the egg and whisk till light, pale color is reached.

Add the jam and continue whisking till well combined.

Slowly add the milk. Mix together till combined.

Gradually sift in the dry ingredients, followed by the vinegar, and fold till smooth texture is reached.

Grease the muffin tray with cooking spray or soft butter. Pour in the mixture till ¾ full.

Bake in the oven for 30min.

With a cake tester or fork, poke holes in tops of the puddings to allow the sauce to soak in.

While hot, pour the sauce over the pudding and allow to absorb.
SAUCE
Over a medium heat in a saucepan, bring the butter, sugar and water to a boil.

Remove from heat and stir in the cream and vanilla essence.

Pour the sauce over the baked pudding and let it soak for 15min.
AMARULA CRÈME ANGLAISE
Serves: 6

Prep Time: 5 min

Cook Time: 20

In a large bowl, whisk the egg yolks and sugar till light and pale color is reached.

In saucepan over medium heat, scald the liquids and split vanilla pod for 7 minutes.

Remove the vanilla pod.

Pour and whisk in a third of the liquid, followed by the rest.

Return the mixture to a clean saucepan and cook over low temperature for 10 minutes, stirring continuously till desired sauce consistency is reached.