---
Stuffed Pork Chops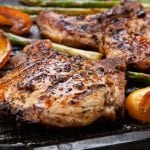 250ml White breadcrumbs
125ml Grated mozzarella cheese
4 Tbsp Mayonnaise
5ml ground coriander
4-6 Thick pork chops
60ml Olive oil
30ml Lemon juice
15ml Dijon mustard
Mix the bread crumbs with mayonnaise and cheese. Mix until it is a thick paste then blend coriander in.

Make a horizontal slice in the pork chops, do not cut right through.

Stuff pork chops with the filling.

Mix together olive oil, lemon juice and Dijon mustard.

Braai the chops over medium coals until cooked through while basting constantly with oil mixture.

Serve with braai mielies and salad.