---
Turkey roulade stuffed with gammon and spiced apples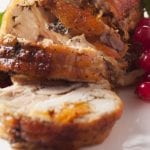 1 x turkey breast, deboned
Salt and freshly ground black pepper, to taste
6 large Swiss chard spinach leaves, blanched and refreshed in ice water
1/2 cup Golden Delicious apple, diced
1/2 cup diced cooked gammon
2 tbsp brown sugar
1 tsp ground all spice
11/2 rolls (600g) ready-made puff pastry
1 egg, lightly beaten
Butterfly your turkey breast, being careful not to go all the way through.

Season your turkey breast pieces with salt and pepper.

Place turkey breast pieces on blanched big spinach leaves.

Pan-fry your diced apple and cooked gammon together, and add the sugar and all spice.

Place filling on the turkey breast and roll into a roulade and wrap spinach around to make a parcel.

Use a lattice cutter to form a diamond pattern of puff pastry that is big enough to form a cage over the top of the turkey – cut off excess pastry – do not put any pastry at the bottom of the Turkey as it will not bake properly and end up been soggy.

Egg wash the pastry and bake in the oven at 200'C for about 20 minutes until your pastry is golden brown.

CHEF'S TIP: If you cannot find turkey breast – you can use chicken breast and you can do any filling of your choice.