---
Almond Cake with Naartjie Drizzle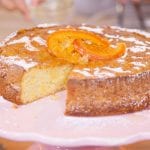 4 eggs separated
30ml Naartjie Zest
100g castor sugar
170g ground almonds
5ml baking powder
Pinch of salt
Preheat oven to 180⁰C.

Grease and line a 20cm round cake tin.

Whisk egg yolks, zest and half of the sugar.

Add baking powder and almond flour to egg mixture and whisk until well combined.

Add salt to egg whites.

Beat egg whites until stiff.

Turn mixer down to low and slowly add remaining sugar to egg whites until stiff and glossy.

Fold flour mixture into egg whites and pour into prepared tin.

Bake for 35 minutes. Allow cake to cool in the cake tin.
Drizzle:
80ml Castor Sugar

80ml water

Skin of one Naartjie

In a saucepan mix sugar and water.

Bring to the boil and allow to boil for 2 minutes.

Remove from the heat. Place naartjie skins into syrup and allow to sit for 10 minutes.

Remove skins and bottle syrup.
For serving:
Remove cooled cake from cake tin.

Drizzle with naartjie syrup and dust with icing sugar.

Serve with candied naartjie peel if desired.