---
Spaghetti Frittata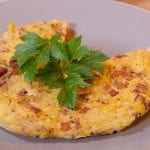 125g streaky bacon, chopped
2 garlic cloves, chopped
250g spaghetti, cooked
6 eggs
150g parmesan, finally grated
Salt and Pepper
Preheat the oven to 200C.

Fry the bacon until crispy then stir in the garlic and cook until fragrant.

Mix the spaghetti into the pan.

Whisk together the eggs and parmesan and seasoning, then pour over the spaghetti.

Bake in the oven until the egg has set.

Cut into wedges to serve.