---
---
You might think there is no room in a healthy diet for pizza – but b-well canola oil is here to show you even a seemingly guilty pleasure can get a healthy makeover – like today's recipe of Egg and Rocket pizza, which is perfect for meatless Mondays! Yeah baby! This recipe is quick and easy to prepare and as we use B-well's olive and canola oil blend – it is high in healthy omega oils. Let's get going!
B-Well Egg and Rocket Pizza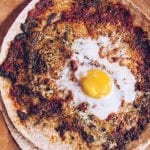 (Makes 2) Recipe by Nicole Snelling
B-well Canola and Olive Oil Blend
2 Whole Wheat or Seeded Wraps
2 Eggs
1 Avocado (Peeled and Sliced)
1 Tbsp Basil Pesto
1 Tbsp Sun Dried Tomato Pesto
Handful of Wild Rocket (Arugula)
Balsamic glaze (for serving)
Sauté leeks and garlic in olive oil in a large heavy-based pan (add chilli flakes, if using).
Add asparagus and sauté for one minute. Add peas and sauté for another minute. Stir in the baby spinach until just wilted.
Make four wells in the vegetable mixture. Crack an egg into each well. Place the lid on the pan and cook for a couple more minutes, until eggs are cooked through.
Serve immediately with some pieces of trout (optional) and a squeeze of lemon juice.
---