---
---
We have Amy Hopkins joining us in the kitchen do another great healthy from her cookbook Inside the WH kitchen.
We will be making one of the easiest weeknight meals, hake En Papillote, the fish is cooked in parchment paper that allows all the juices to stay intact and means you can cook whatever veggies you like on the side without all the juices mingling. We've got Baked Hake and Asparagus on the way!
Hake Bake with Spears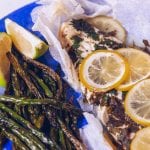 Ingredients:
2 Lemons
Handful Parsley (chopped)
2 Hake Fillets (150g to 200g each)
Salt
Two handfuls Asparagus Spears
Extra-virgin Olive Oil
Method:
1/ Preheat oven to 200°C.
2/ Place a sheet of baking paper on a baking tray. First, slice one lemon and place half the slices on the paper, then some parsley, then the hake. Top with more parsley, a sprinkle of salt, a squeeze of lemon juice and the remaining slices of lemon. Seal the parcel making sure it is very secure.
3/ Place the asparagus in the same tray next to the fish, drizzle with olive oil and a little salt. Bake for 10 minutes or until the fish is just cooked through.
---