---
---
Its always good to start a new year by getting into the habit of making better health choices when it comes to your diet, it can be tough for some, especially eating more of those good for you green veggies! We have Amy Hopkins joining us in the kitchen to show you a healthy take on a shakshuka from her cookbook Inside the WH kitchen.
Green Shakshuka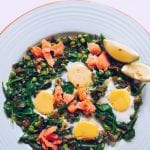 2 Servings
Ingredients:
2 Leeks (chopped)
1 Clove Garlic (very finely chopped)
Chilli Flakes (optional)
Extra-Virgin Olive Oil
1 Cup Baby peas (defrosted)
1 Bunch Asparagus (chopped)
2 Handfuls Baby Spinach
4 Eggs
Salt and Pepper
50 g Smoked Trout (torn into pieces (optional))
Lemon Juice
Method:
1/ Sauté leeks and garlic in olive oil in a large heavy-based pan (add chilli flakes, if using).
2/ Add asparagus and sauté for one minute. Add peas and sauté for another minute. Stir in the baby spinach until just wilted.
3/ Make four wells in the vegetable mixture. Crack an egg into each well. Place the lid on the pan and cook for a couple more minutes, until eggs are cooked through.
4/Serve immediately with some pieces of trout (optional) and a squeeze of lemon juice.
---