---
Chicken and Mushroom Cannelloni with Roasted Garlic and Tomato Sauce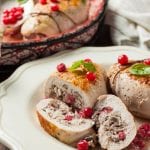 6 skinless chicken breasts, deboned
Salt and freshly ground black pepper, to taste
250g wild mushrooms
Olive oil, for frying
200g feta cheese, crumbled
6-8 large ripe tomatoes, halved
5 cloves garlic, finely chopped
Slice the chicken breasts in half horizontally then place between two sheets of clingwrap and flatten with a large frying pan or rolling pan until thin.

Heat a frying pan until very hot then pan-fry the mushrooms in olive oil until brown, seasoning well and adding 2 cloves garlic near the end – be careful not to burn the garlic. Remove from the heat, allow to cool slightly then mix with half the crumbled feta cheese to form a filling.

Place a spoonful of filling into each flattened chicken breast and roll up tightly. Secure with a toothpick then pan-fry the rolls until golden.

Remove the toothpicks and arrange tightly in a square casserole dish.

To make the tomato sauce, roast the tomatoes and garlic in a preheated oven at 180C until soft then puree until smooth. Season well then pour over the chicken, top with the remaining crumbled feta and return to the oven until the feta is melted.