---
All-In-One Tray Baked Chicken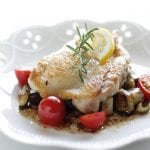 6 Free Range skinless chicken thighs and drumsticks
6 large brown mushrooms, cut into thick slices
11/2 punnet mixed tomatoes, halved
150g feta, crumbled
4 cloves garlic, squashed
Olive oil
Salt and pepper to taste
Preheat the oven to 180'c. Place the tomatoes in a large baking dish or roasting tray and crush with the back of a fork. Add the mushrooms, squashed garlic cloves and a good glug of olive oil. Add the chicken thighs to the tray. Season with salt and pepper

Toss everything together really well to coat, then spread across the tray, making sure the chicken isn't covered by the vegetables. Roast for around 40-45 minutes, or until the chicken is golden and cooked through, turning and basting it a couple of times during cooking with the juices from the tray.

Remove from the oven, crumble the feta over the top and serve the tray backed chicken with a loaf of crusty bread to soak up the juices.