---
Chicken Yassa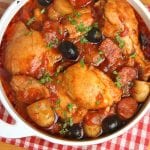 6 chicken pieces
2 vienna sausages (sliced)
4 Large Onions (sliced)
2 Carrots, diced
1 Potato, diced
2 red chillies
2 Tbs Dijon mustard
1 Tbs of paprika
2 small stock cubes
3/4 C Clover Krush orange juice
1 C lemon juice
Oil for frying
2 cloves garlic
1 Bay Leaf
1 Tomato
Marinate chicken, sausage, onions, carrots, potatoes with paprika, mustard, stock cube, lemon juice, orange juice, salt, pepper, chillies, bay leaf and set aside.

Sautee the chicken and sausages until golden brown take out of the pot.

Sautee the onions, carrots, potatoes and garlic without the marinade, in the same pot.

Add marinade.

Then add the chicken and let it slowly simmer for about 15mn.

Serve with rice and chopped fresh tomatoes.