---
---
This is the only recipe for broccoli salad with cheese I've ever asked for and it will also be the last—there's no need for any other variation when you can serve this winning side dish at your next get-together thanks to Clover Cheese!
Three Cheese & Broccoli Salad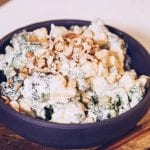 Recipe by Melandie Esterhuizen
Ingredients:
100 g Gouda Cheese (cubed)
100 g Cheddar Cheese (cubed)
100 g Herbed Feta Cheese
300 g Broccoli Florets
1 Cup Cream O'naise
1 Tbsp Condensed Milk
1 Tbsp Butter
Zest of 1 Lemon
Salt and Pepper to taste
Mixed Nuts (chopped and toasted)
Method:
Steam the Broccoli for 3 – 4 minutes
In a bowl mix together the Cream O'naise, condensed milk, zest, salt and pepper.
Heat the butter in a frying pan.
Add the broccoli and mayonnaise mix to the pan and cook for 4 – 5 minutes (the heat will enhance all the flavours)
Remove from the heat and place in a bowl to cool completely.
Mix through the Gouda and cheddar cheese.
Place in serving bowl and crumb the feta over the salad. Sprinkle with mix nuts and serve.
Recipe by Melandie Esterhuizen
---