---
---
From helping our kids to make good friends to packing a healthy lunchbox for them. Keeping lunch boxes interesting and healthy at the same time can be challenging. Chef and food writer Anel Potgieter will be showing us a great lunch box idea, these baked falafels are a perfect healthy, high in protein snack to go with a delicious easy to prepare homemade hummus.
Homemade Falafel & Hummus Dip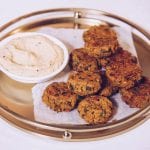 Recipe by Nicole Snelling
Falafel Ingredients:
1 Tin 400g Chickpeas (drained & rinsed)
½ Red Onion (diced)
Zest & Juice of 1 Lemon
1 Garlic Clove (peeled & roughly chopped)
2 Tbsp Olive Oil
1 Tbsp Cumin Powder
1 tsp Paprika Powder
1 tsp Baking Powder
½ tsp Salt
Handful Fresh Parsley
Handful Fresh Coriander
Hummus Ingredients:
1 Can Chickpeas (drained and rinsed)
¼ – ½ Cup Water
2 Tbsp Olive Oil
1 Tbsp Tahini Paste
1 tsp Lemon Juice
1 Garlic Clove (peeled)
Salt and Pepper (to taste)
Falafel Method:
Preheat the oven to 200°C and line a baking sheet with baking paper.
Place all the ingredients, except for the olive oil into a food processor and pulse the ingredients until just combined. You do not want to over pulse the ingredients, you will lose the crunchy texture.
Make sure the mixture is seasoned well, then scoop tablespoon full of mixture onto the baking tray and shape them into small golf balls.
Brush them with olive oil and place them into the oven to bake for 10-12 minutes until golden brown, then flip them and bake for another 10-12 minutes.
Remove them from the oven and serve them with hummus or plain yoghurt.
Hummus Method:
Place ¼ Cup of water and the rest of the ingredients into a food processor, pulse the ingredients until smooth.
Season the mixture well, if the hummus is still too thick you can add more water.
Serve the hummus with the falafels, store the hummus in the fridge for up to 3-4 days.
Recipe by Nicole Snelling
---