---
---
Our secret to perfect braaied chicken is to par-cook it in the oven before it hits the grill. We've been doing it for years, and the braai police are yet to show up.
They're called Unicorn wings because someone once told us that they are way too tasty to just be chicken.
Our top wing tip is to slice off the wing tips. They make good stock and it makes the wings easier to braai.
Unicorn Wings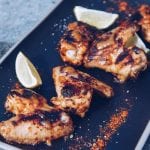 Serves 2
For the Wings:
16 – 20 Free Range Chicken Wings
Karoo Dust
A glug of Oil for drizzling
For the Marinade
5 Tbsp. Smooth Peanut Butter
5 Tbsp. Smooth Apricot Jam
2 – 3 Tbsp. Sriracha Sauce
100 ml Larger / Amber Ale
2 Limes (cut into wedges)
Sea Salt and freshly ground Black Pepper
Method:
Pre-heat the oven to 180 and prepare the wings while it heats up.
Using a chef's knife or a pair of kitchen scissors, carefully trim off the wing tip at the V of the joint.
Wing tips don't really get eaten and they get stuck in the grill, so it's just easier to lose them.
Season the wings liberally with Karoo Dust or Sweet and Spicy Dust and drizzle with oil.
Roast the wings in the oven for 20 minutes to pre-cook.
Remove from the oven and baste the wings with any juices in the roasting pan.
The wings are now ready to braai.
In a small pot over a medium heat, add all the ingredients for the marinade. Whisk to combine as it heats up. Once it's all silky and lekker, give it a taste. If it needs more heat, add more hot sauce. If you think it's a little too thick, then add beer a splash of beer to thin it out.
Give the par-cooked chicken wings a first layer of marinade and pop them on the braai over medium heat coals. Braai for roughly 10 minutes, basting with every turn. The idea is to build up a caramelised crust of marinade with every turn. Pop the wings into your braaibak and toss them in any remaining marinade. Give them a final shake of Karoo Dust or Sweet and Spicy Dust then prepare to ride the unicorn.
Recipe by Greg Gilowey and Karl Tessendorf
---