---
---
We have another great breakfast recipe for you today honouring world cancer day. We will be making poached eggs & smashed avocado on toast, a breakfast to get a healthy dose of nutrients and vitamins to get your metabolism going!
Poached Eggs & Smashed Avocado on Toast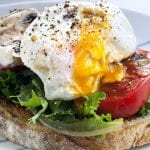 (makes 1)
Ingredients:
Recipe by Nicole Snelling
2 Large Eggs
1 Slice of Whole Wheat Seeded Loaf Bread or Rye Bread (toasted)
50 g Smoked Salmon Ribbons
½ Avocado
1 Tbsp White Vinegar
1 Tbsp Pumpkin Seeds (toasted)
1 Tbsp Sunflower Seeds (toasted)
2 tsp Olive Oil
1 tsp Spirulina Powder
2 Lemon Wedges
Handful Baby Spinach
Handful Dill (roughly chopped)
Salt and Pepper (to taste)
Method:
Bring a pot of water to the boil, add the vinegar and a tsp of salt. Once the water has reached boiling point, reduce the heat down so that your water will be at a light simmer.
Bring a saucepan to a medium-high, add the olive oil and the spinach and allow to cook for 3-4 minutes, add the spirulina powder, mix to combine, then set aside.
Crack an egg carefully into a cup, then gently pour the egg into the water, repeat for the other egg and allow to cook for 3-4 minutes for a soft, 4-6 minutes for medium and 6-8 minutes for a hard-poached egg.
Meanwhile smash the avocado onto the toasted bread using a fork, top with the cooked spinach, season with salt and pepper, then remove the eggs from the water and place them onto the toast.
Then add the smoked salmon, dill and toasted seeds and serve immediately with some freshly squeezed lemon.
Recipe by Nicole Snelling
---