---
Vetkoek Masala Steak Gatsby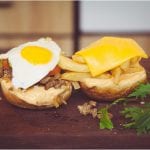 2 tsp of garlic, crushed
2 tsp Masala Spice
1 tsp Salt
1 tsp Chilli Flakes
800g Pan Fry Tenderised Beef Steak, thinly sliced
30ml Oil
1 Large Onion, thinly sliced
4 Vetkoek
Peri-Peri Mayonnaise Sauce (1 Cup of Mayonnaise + 2tsp of Peri Peri)
Shredded Lettuce
2 Tomatoes, sliced
1/2 cucumber,sliced
4 Cheddar Cheese Slices
4 Fried Eggs
3 handfulls Freshly made "slap chips"
Combine garlic, masala spice, salt and chilli flakes then rub onto the meat.

Heat oil in a pan and fry onions till soft and brown.

Add the meat then cook over medium heat until tender.

Assembly

Cut each vetkoek in half lengthwise, and spread both sides with Peri-Peri Mayonnaise.

Top with Lettuce, tomato and cucumber then top with cheese.

Add masala steak, then top with fried egg.

Top with slap chips, close the sandwich with the other half of the vetkoek. Enjoy!