---
---
Enjoy these date balls as a snack or when you feel like a sweet treat or after a workout. These are naturally sweetened by dates, packed with nutrients giving you the energy you need to get through the day and keeping your mind focused without the sugar crash.
Dates are great for digestion, good source of fibre and antioxidants.
Seeded Cocoa Date Balls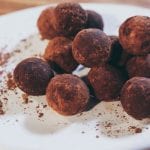 (Makes 14-16)
Ingredients:
400 g Fresh Dates (pip removed)
½ Cup Steel Cut Oats
¼ Cup Sunflower Seeds
2 Tbsp Sugar-free Peanut Butter
2 Tbsp Almond Flour
2 Tbsp Pumpkin Seeds
1 Tbsp Chia Seeds
¼ Cup Raw Cocoa Powder (for dusting)
Method:
Place all the ingredients into a food processor except for the cocoa powder. Blend the ingredients until combined.
Once all the ingredients come together, take tablespoonfuls of the mixture and using your hands roll small balls until all the mixture has finished.
Roll all the date balls in the cocoa and store them in the fridge until you are ready to eat them.
Recipe by Nicole Snelling
---